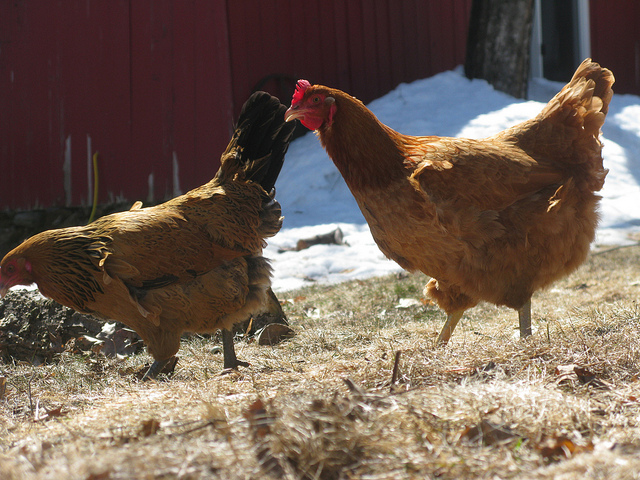 Greetings, my frugal friends! Today we're featuring a fun and heart-warming post from life coach Lisa Hoashi. Lisa shares about the hard work and also the inevitable joys of living life on a working farm. Her words will bring a smile to your face and warmth to your heart. Enjoy!  
How I Met the Love of My Life
I didn't set out to find love. Truly.
The reason why I quit my job and gave away most of my possessions was because I'd long had the dream to travel for at least a year, unfettered and carefree. Sure, as I talked about my plans with my other single friends, they often looked at me with a twinkle in their eye. "You'll be sure to meet someone when you're traveling," they said.
Maybe so, I thought. At least it'd be good to take a break from the dating scene in my hometown of Portland, Oregon. Still, I didn't put much stock in finding love during my travels. My friends were delighted then, when four months after I left, they received my emails saying: "I'm in Catalunya, in northeast Spain, and I've fallen in love with a Catalan farmer."
What!?!
Locals here still say this to me, when they hear this American city girl is living in an ancient farmhouse in the sticks, married to a farmer. Local teenagers are especially baffled by why I chose to live here, an American for whom the world is presumably her oyster. Why, when all they can think about is how to get out of here?
Why I Chose Farm Life in Spain
I had two main reasons for choosing this quiet, simple farming life
My husband Manel is wonderful person.
I've traveled many places, and I know a good life when I see it. We live an hour from Barcelona and the Mediterranean, and 15 minutes from the foothills of the Pyrenees. The weather is sunny and mild. People are generous, fun and welcoming. The food is excellent. The lifestyle is simpler and slower than in the U.S. The cost of living is cheaper.
I made a big leap when I quit my job. I overcame my fear of spending my savings and having less. I left the future wide open as to what work I'd do next and where I'd live. I slowed my life way down so I had time to notice what was most important to me.
One of my biggest epiphanies was around money.
I felt so free when I simplified my material needs. I was so grateful to have escaped the cycle of working long hours at a demanding job and then spend my hard-earned money on frivolous purchases aimed at alleviating my ever-present stress. What an exhausting, expensive churn. I did not want to return to that life.
"Catalans are known for being, well, tacaño," Manel told me over one of our first meals together.
"What does tacaño mean?" I asked.
He grinned. "It means that when I get a Euro in one hand," he said, holding up a fist, "that I put the other hand around it, so it doesn't get away!" He gripped his fist with his other hand, a fanatical look in his eyes. I laughed. Manel said that he used to be embarrassed about growing up in a penny-pinching family. One day, he finally gave up and embraced it. The result: He's smart about his money and a source of many good-natured laughs. At dinner parties, he loves hamming up his caricature as the tightfisted farmer.
My New, Frugal Farming Life
For me, finding a man who was careful with his money was a decidedly good thing. In the States, it'd become routine for me to find out after a month or so of dating a guy that he was in debt and only had vague plans for taking care of it.
I was always surprised how few parents seemed to have taught their kids how to manage their money well. This was a big thing in my family.
My paternal grandparents were immigrants from Japan. They farmed in several places in the Pacific Northwest, before they were shipped off to an internment camp during WWII and lost what little they'd gained. They started over again after camp. To get ahead, my father dedicated himself to his education and saved as much money as he could from side jobs. When he graduated from college, he focused on getting a good job and then, promotions.
Meanwhile, my maternal grandparents migrated to Oregon from Ohio looking for work. My grandmother juggled jobs as a housekeeper, waitress, and school bus driver just to keep food on the table. My mom was a good student and got a scholarship that helped cover college. She watched every cent to make sure she could finish nursing school and get a good job. She wanted to always be able to take care of herself.
In the U.S., I dated few men with a background like mine. Imagine my surprise when I found a man whose money values matched my own, in a corner of the world I'd never known existed. Manel comes from a traditional Catalan farming family, whose way of life is characterized by simple, hard work.
In Manel's father's and grandfather's time, they had dairy cows and pigs on the farm and cultivated the fields too. Having dairy cows meant that they had to milk twice a day; they could never leave the farm for more than eight hours at a time. In the winter, when farm work slowed, the men took jobs as loggers. The women, in addition to immense household work, were in charge of small animal husbandry, mainly chickens and rabbits, as well as an enormous vegetable and fruit garden.
During Manel's childhood, vacation was an annual day trip to a nearby river. Today, Manel still raises pigs and cultivates the fields. My retired father-in-law oversees our (still) enormous garden. I'm only a farm dabbler, assisting with the garden and small chores. I dedicate most of my working hours to my life coaching business. Manel warned me early on to be careful what I took on with the farm. "It's a lot of work", he said. He's right.
Manel says his frugality comes from the plain fact that his family always had to work very hard for their money. Having savings was their only insurance against illness, accident or anything else that might go wrong.
It's interesting to notice that his family's motivations for saving – security and self-preservation – are different from my family's notion of saving as a means to get ahead. That's the influence of the American Dream, I'd guess.
Amazingly, these separate histories have brought Manel and I together in this place. We agree on these things: Yes, we are willing to work hard for our money. It's important too that we love our work. We are savers. We like a simple life. We enjoy being generous in a variety of ways, not just through money. We value experiences more than things.
And, of course, we'll always prioritize one type of experience in particular: Travel. You never know what it will bring.
About the author: Lisa Hoashi is a life coach. Try out her "practical idealist" approach to plan an amazing 2016 with The Practical Idealist's Guide to a New Year.