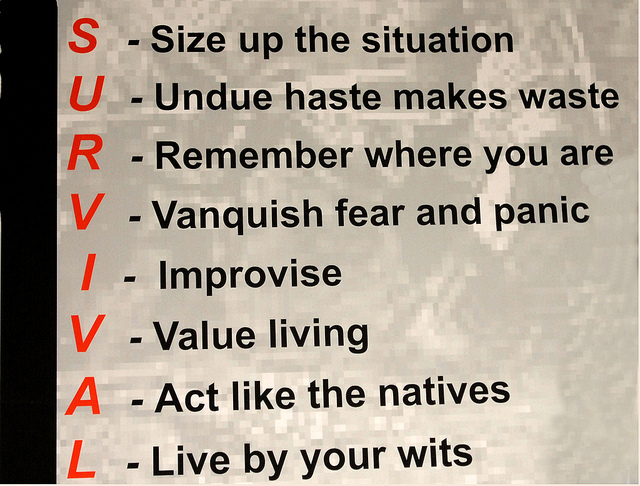 A few years ago, I took a class that was instrumental in teaching me the importance of thinking "big picture" in everything I did. Part of what the class focused on was always being prepared for an emergency situation. There are some SHTF scenarios in which we have advanced notification, like hurricanes and the like. But many SHTF situations simply pop up unexpectedly, think: bombings, terrorist attacks, robberies, etc.
It's vitally important to have our emotional/spiritual preparedness plan together in the event of a SHTF situation, but it's especially vital in the event of an unplanned SHTF scenario. In other words, it's important to be prepared always. Here are some tips that can help you to ramp up your preparedness, even for events you never saw coming.
Survival Tips for Expected AND Unexpected SHTF Scenarios
1. Always be searching/scanning your surroundings and planning a way of escape in case something pops up.
This is one of the first things I learned in the above-mentioned class. When you're sitting at a stoplight, shopping at the store, perusing books at the local library or whatever, don't allow yourself to zone out and wander into la-la land. Always have a "search and scan" mentality. Be aware of the people around you: what they're doing, wearing. Do they look suspicious? Could they have an evil intent? Concerning your kids/family: be on the lookout for potential danger situations and threats: is there water nearby that could attract a young child? A street? A dangerous animal? Our military men and women are taught to always know what's going on around them – we should learn to do the same. Threats, no matter how seemingly benign, are everywhere.
The guy on the road in front of you who can't stay off his da*n smartphone as he drives is a threat.
The speeding driver is a threat.
The driving rain is a threat.
The impending drought is a threat
Learn to recognize people and situations that could cause trouble for you, even if they don't mean to. Don't do this in a paranoid, psychotic way – just learn to be aware and learn to have plan for if that potential threat is realized.  For instance:
Stay a good distance back from drivers – especially idiot drivers – or if they're tailgating you, pull over and let them go ahead
If there's an impending storm that may limit your access to stores, stock up on food/supplies well ahead of time
If there's a creepy guy (or girl) that seems to be a little too close to you at the store, plan out your action for keeping free of them
If there's a major rainstorm on its way, choose to stay home (or leave early or late to your destination) and avoid having to drive during the storm
Always have a search and scan mentality, and use it everywhere you go. Eventually it'll become second nature and will require very little effort.
Recommended reading: SAS Survival Handbook, Third Edition: The Ultimate Guide to Surviving Anywhere
2. Know the roads and have a backroads route to your bugout location.
If your city suddenly goes haywire because of some type of catastrophic event, everyone will be headed for what they think is the quickest route of escape – the local highways. Don't follow the sheep to the slaughter. Instead, have at least one (preferably two or three) backroads routes to your bugout location mapped out. Sometimes it's smarter to take the road less traveled.
3. Never drive in the middle lane of traffic on roadways – always stay to the left or right lanes so you have a way of escape.
This may sound silly, but consider this scenario: You're driving through the urban streets, simply wanting to get home. Suddenly, a SHTF scenario happens. A road rage incident blows up next to you and somebody pulls out a gun. An accident occurs a half a block ahead and traffic will now be at a standstill for quite some time. You get an emergency call from home and need to get home ASAP, even if it is rush hour traffic.
If you're in the middle lane of traffic, you're at the mercy of the drivers around you. However, if you've chosen to stay in the left or right lanes, you do have the option to head into a parking lot, take the next side street, or turn around and drive on the shoulder if the emergency warrants it. Never drive in the middle lane of traffic on city roadways, and stay to the right on highways so that you can take the shoulder to the nearest exit if need be. You don't really need to drive that fast anyway. 🙂
4. Have a list of bugout supplies you need to take from home just in case and know where all of your supplies are so that evacuation from your home is quick- 15 minutes or less.
You should have an easily accessible list of your necessary bugout supplies on hand at all times. Sit down and discuss with your family what things are of utmost necessity and importance should you need to leave your home quickly.  The list should include important things, but it should be a small enough list that you can get out of the house in 15 minutes or less. You should also have a clear knowledge of where all of those important things are so that you don't waste time looking for them.
Recommended reading: The Prepper's Cookbook: 300 Recipes to Turn Your Emergency Food into Nutritious, Delicious, Life-Saving Meals
5. Keep a bugout bag of basics in the car.
Always have a supply of water, snacks, first aid items, etc. in the car in case there's no time to go home before you head to your bugout location. Have what you absolutely need for survival with you in the car at all times.
Recommended reading: The Essential Wild Food Survival Guide
6.Have a planned meeting place/escape plan for when you're apart.
If some family members are at work, some are at home, some are at school, have a specific plan for getting everyone together and to your bugout location. Take some time to map out a plan that will detail who gets the kids from school, where all will meet and what code words you'll use to activate the plan.
7. Have cash on hand or easily accessible without an ATM at all times.
This is part of good financial self-sufficiency. Same goes for passports, birth certificates, etc. Know where they are and make them easily accessible.
8. Practice your bugout plan in your head (or in real life) on a regular basis so that if you need to use it the plan is familiar to you.
Pastor Andrew Wommack, upon completion of his new Bible College, stunned students when he said that the grand opening of the school was anti-climactic for him. Why? Because he'd envisioned himself walking the halls in the school in his head thousands of times before and during the time it was being built. Do the same thing with your bugout plan. The last thing you need in the event of a bugout emergency is to be unfamiliar with your plan. The more familiar you are with your bugout plan, the less you'll panic if you actually have to use it.
Recommended reading: Where There Is No Doctor: A Village Health Care Handbook, Revised Edition
9. Commit to continued preparedness, survival and off-grid living education.
There's always more to learn about preparedness and survival. Choose to commit that you'll spend at least a few hours each week turning off the TV and working to educate yourself further on how to become more self-sufficient and prepared.
Have you implemented any of the above survival tips? What would you do if you were suddenly caught in the middle of a SHTF scenario?