As a family of 7, our clothing expenses can get pretty high. It doesn't get anywhere close to how much we spend on our food budget, but clothes can still get pricey. However, we have found a way to change that this year and are really excited to have only spent less than $5 for two seasons of clothes for the whole family!
Consignment sales
Children's consignment sales are a great place to save a ton of money on things for you children. Most of the time, we only think about clothes and shoes when we think about consignment sales. But some of these sales have become much more diverse in their offerings in the past few years. A lot of the regular findings now include:
Children's clothes
Children's shoes
Adult clothes
Adult shoes
Children's bikes, scooters & wagons
High chairs
Booster seats
Strollers
Desks
Tables
Chairs
Camping Gear
Beds
Lamps
Kitchen appliances
Electronics
Bedding
Games
Sports gear
Books
The list is pretty much endless these days!
Since these sales have now started taking so many different items, it made it easier for us to consider consigning.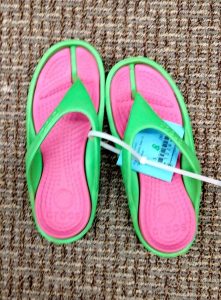 Consigning
I have shopped at them off an on for years, but never consigned. I didn't think I had enough inventory to justify the work involved in tagging, pricing and hanging everything. But this year was different and I am so glad I did it!
Selling our children's old stuff at the sale only yields us a portion of the asking price. Every sale is different, so the amount you get to keep varies. A lot of the time though, it hovers around 50% – 60% that you get to keep. The sale we were consigning at was the Kids Everywear sale, and as a consignor volunteering for one shift, I got to keep 60% of whatever we sold.
While that may not sound like a lot, it was better than nothing. Plus, it is still more than you get when you donate your items, especially with all of the tax changes recently. The only real downfall to consigning is that it takes time to find all of the things you want to sell, price them, and tag them accordingly.
But, if you have enough things to sell, then you could potentially walk away from the consignment sale as a winner. My plan was hopefully to make enough to cover how much we spent at the sale on clothes and shoes for the kids for the next two seasons.
We came out almost dead even. Which was pretty awesome!
Buying Clothes
This consignment sale goes for approximately a week each time it happens, which is twice a year. The way it is broken down is:
Early shopping days for consignors and volunteers first – Full Price
Opens to the public – Full Price
50% off day for consignors and volunteers (but still a full price day for the general public)
75% off day for consignors and volunteers (50% off for the general public)
75% off for everybody on the last day
Most of the time there is still a lot left to choose from on the discount days. This means if you don't have anything specific in mind, then going on the last day can really get you the most bang for your buck.
This last sale was for spring and summer attire, and we made out pretty darn good!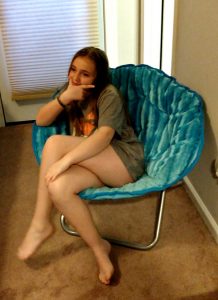 What we ended up buying was:
Pants – 10
Long Sleeve Shirts – 21
Holiday Dresses – 2
Long Skirts – 2
Dresses – 6
Shoes – 7
Socks – 8
Travel Coffee Mug – 1
Children's Desk – 1
Papasan Chair – 1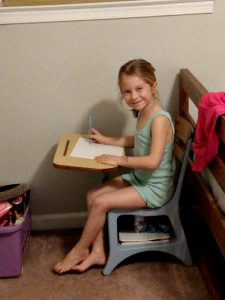 For everything, I spent a grand total of $151.95. This haul was for all 7 of us, and just what we needed for the seasons.
clothing win!
Even though I spent $151.95 on all of the clothes, shoes and few random accessories we needed for spring and summer, we still won by consigning. We were able to sell most of the stuff we consigned for a total of $147.41.
This means we spent a grand total of $4.54 for two seasons worth of clothes!
And we got rid of a lot of the stuff that was outgrown or the kids just weren't wearing any more, which was great. Yes, it took me some time (and some wine) to get everything priced, tagged and dropped off. But for us, it was worth it.
The kids are thrilled with their new stuff and we are really happy that we almost broke even. This is just one more way that we are continuing to pare down our budget to reach financial independence earlier, and we are really excited about it!
Have you tried consigning before? If so, what was your experience?