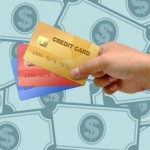 There seems to be a lot of chatter these days in the personal finance world on whether or not car loans are good or bad.  When we first started on our journey to financial freedom, I was very much "anti-loan".  However, now that we've had nearly a year-and-a-half of straight education in the world of money, I've found that loans indeed can be a good thing – when done right.  Here are some reasons a car loan might not be such a bad idea if you're in the market to purchase a new or new-to-you automobile.
1. You can find an awesome interest rate.  These are definitely the days in which taking out a car loan can be to the buyer's advantage.  Rates these days, for most borrowers, are awesomely low.  In doing research for car loans for this article, I found rates as low as zero to two percent.  That's next to nothing!  If you're in the market for a car, make sure to shop around, and for car finance rates, click here.  You might be surprised at the minimal amount of interest you'll pay by simply getting a low rate.  As an example, I called a nearby dealership to find out what the lowest rate available was.  After I gave them our credit score, they told me I could likely get a rate of 1.65%.  This would mean that, on a $10,000, 3-year-term auto loan, I would pay a total of in interest of $256.40, IF I didn't pay the loan off early.
2.  You can invest the money you have saved for the car, and earn more.  If I did take out my mythical auto loan for that rate of 1.65%, I'm quite sure that I could find an investment somewhere that would earn my $10,000 more than $256.40 over the course of three years, provided I was willing to do my research on investments.  No, I won't earn that in a typical liquid savings account, but there are still many safer investment alternatives that can earn me a return of higher than 1.65%.  Doesn't it make sense in a case like that to invest the money I'd saved for my car purchase and take out a car loan?
3.  You can keep your hard-earned cash on hand for emergencies.  After you saved up a nice chunk of change like the amount it takes to pay for a car, the thought of parting with that cash can be a bit overwhelming, especially if it's means your emergency savings or back up savings fund will then be non-existent.  Taking out a low-interest rate car loan is often a better option, as you'll be able to keep that money in your savings account for any potential financial emergency.  In the case of the fiction $10,000 car loan, the interest amount of roughly $7.12 of month, at least to me, is worth paying for the peace of mind of knowing that I'll still have that nice cushion of cash available should a financial emergency come up.
Only you know what's best for your particular situation when it comes to buying your next car, but it's important to look at the whole picture before deciding what the best way is to pay for that car.   Best of luck to you in your search!
What do you think: is financing a car always wrong?